The easiest way to update your Ditto firmware is to right click and copy the link, then use it as described in the below instructions. You can also download the firmware binary file to your computer. Updates are sequential updates, so please use these files in order. Please read the instructions below and use the correct link(s)/file(s).
If your firmware version is old, you may need to perform more than one update.
Note: Ditto, Ditto DX, Ditto Shark, and Ditto x86 updates are different and not interchangeable. Find out which Ditto you have.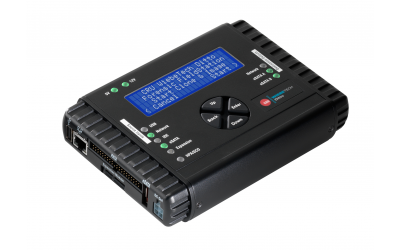 Firmware Version
Revision
Min version
required to
Update
Release Notes
Release Date
Download
(or right click to
copy to clipboard)
File MD5
2023Jan11a
AA

2019Dec31a

readme
Jan 26, 2023
Download
46dd71dbe0818e00cd06d364cd60093c
2021Dec09a
Z

2019Dec31a

readme
Jan 4, 2022
Download
5d568985c9d462050f908a579c0c8605
2021May11a
Y

2019Dec31a

readme
May 12, 2021
Download
fd631770a3690f39aa8daa9bbf6e6994
2019Dec31d
X
2016Oct01a
readme
Mar 9, 2021
Download
fa04df63ed1e46d1bb957d6565296be3
2019Dec31a
W
2016Oct01a
readme
Mar 17, 2020
Download
3749210a3e058ba5b6d1a8d1bfe3fcfd
2019Mar27a
V
2016Oct01a
readme
Mar 27, 2019
Download
e4d34872c5ce23ffdb11a79aa18512d8
2018Apr19a
U
2016Oct01a
readme
Apr 20, 2018
Download
7178e85fde20e393148744cd9b4e58c2
2018Mar13a
T
2016Oct01a
readme
Mar 14, 2018
Download
9ac0e23d8e7cab45d3589c62b1f55e0f

2018Mar08a

S

readme

Mar 9, 2018

2017Sep20a
R
2016Oct01a
readme
Sep 26, 2017
Download
ca7a31ff5e7919d8d8631a3e594714ea
2017Apr18a
Q
2016Oct01a
readme
Apr 19, 2017
Download
2203709acdc7bc832554af90b1c71fbe

2017Mar02a

P

readme

Mar 7, 2017

2016Oct01a
O
2014Dec07a
readme
Oct 7, 2016
Download
8279bd822eb600f3b07844ba6cb39e93
2016Jun01a
N
2014Dec07a
readme
Jun 1, 2016
Download
06fee40524863a0407450b41af259114
2016Mar01a
M
2014Dec07a
readme
Mar 3, 2016
Download
d80ab2f36fc8f47fecea423c29eda385
2015Sep19a
L
2014Dec07a
readme
Sep 22, 2015
Download
22758687c15ad23bbca29e1146e08b19
2015Mar12a
K
2014Jan01a
readme
Mar 16, 2015
Download
235932fc4c416630828275495036c9c1
2014Dec07a
J
2014Jan01a
readme
Dec 15, 2014
Download
059c28a186b6d90cf29624f72959c4e5
2014Sep12a
I
2014Jan01a
readme
Sep 12, 2014
Download
54aaa1229c6571a44c2e38e75258a0e1
2014Jan01d
H
2013Oct15a
readme
Apr 09, 2014
Download
273ad7018007e56d5459e52727b3cf06
2014Jan01a
G
2013Oct15a
readme
Feb 03, 2014
Download
9ce4b73aa41eb839cbba72bec52ba809

2013Dec31a

F

readme

Dec 31, 2013

2013Oct15a
E
2013Jun30a
readme
Oct 15, 2013
Download
cf9b8c706def42f0133dc980f4379f74
2013Jun30a
D
13May04a
readme
Jun 30, 2013
Download
1687545e026ac4523a1938ed39b8b5ea
13May04a
C
13Mar27a
readme
May 04, 2014
Download
1cc4c32b5e509836e6cd5b98644126c3
13Mar27a
A
Mar 27, 2013
Download
4bf28fbb59d460d3cdc1e09660710cc5
Important: Ditto firmware upgrades are incremental and must be installed in the order they were released. Reverting to older versions may or may not work. Please contact CRU support if needing to revert to a previous version.
HOW TO UPDATE YOUR DITTO FIRMWARE WITH A LINK
Reboot (or turn on) Ditto. A fresh boot ensures maximum RAM is available for the updater.
Login to the Ditto via the Web Interface
Go to the 'Utilities' tab (see screen shot below)
Note your Ditto firmware version
Copy the link of the next firmware into your clipboard and paste it into the input box
Click on the 'Firmware Upgrade' button
Pop up instructions will lead you through the upgrade
HOW TO UPDATE YOUR DITTO FIRMWARE WITH A DOWNLOADED FIRMWARE (METHOD 1)
Place the firwmare file onto a USB thumb drive (do not rename this file)
Plug thumb drive into the USB port on the Source side
Reboot (or turn on) Ditto. A fresh boot ensures maximum RAM is available for the updater.
Ditto will auto-discover upgrade file, allow you to select it, and guide you through the installation.
HOW TO UPDATE YOUR DITTO FIRMWARE WITH A DOWNLOADED FIRMWARE (METHOD 2)
Reboot (or turn on) Ditto. A fresh boot ensures maximum RAM is available for the updater.
Login to the Ditto via the Web Interface
Go to the 'Utilities' tab (see screen shot below)
Note your Ditto firmware version
Push the "Upload…" button
Navigate to the saved file location
Click on the 'Firmware Upgrade' button
Pop up instructions will lead you through the upgrade
HOW TO REPORT AN ERROR
Go to the 'Utilities' page.
Click on the 'Diagnostics' button.
A window will pop up, you may type in the error that you're encountering.
Click the 'OK' button to save the file to your local drive.
Send the file to Tech Support using our online form