Seamless, Cross-platform NVMe Ecosystem
CRU's Secure High Performance Storage (SHIPS) platform provides NVMe removable drive interoperability between computer workstations and desktops, specialized and custom systems such as vehicles and aircraft, as well as equipment on the edge, such as drones, sensors, and tactical devices.
Learn how to add SHIPS NVMe removables to your
Secure Data Solutions
Cars
Drones
Industrial Computers
Rockets
Integrated Solutions
Products
Fleet
Tactical Computers
Data Transport Projects
Aircraft
Submarines
Workstations
Desktop Computers
Data at Rest Solutions
Manufacturing Floors
Optimized for Interoperability
Today, PCIe interconnects and NVMe SSDs are quickly becoming the norm. They've catapulted data storage into a world of new possibilities.
While these technologies are transforming data acquisition, throughput, and analysis, NVMe storage was not designed for removability and data security. Until now.
Mission-ready, Rugged NVMe
Once again, CRU is leading the way to ensure that those who demand
physical data security
or need to securely transfer large amounts of data can do so with cutting-edge NVMe storage technology.
Remove & Integrate with Ease
Today's SHIPS platform products integrate into standard computer applications as well as provide an opportunity for unique, custom solution development.
From greasy manufacturing floors to autonomous vehicles, SHIPS modules are designed to follow the work wherever required.
Trusted for Over 30 Years to Secure Your Data
For nearly 35 years, CRU has been at the forefront of secure data storage and fast data transfer technologies.
CRU removable and mobile rack data solutions are trusted by military and government agencies, as well as businesses around the world, to easily and efficiently secure and transport their sensitive data.
OEMs, system builders, and system integrators will benefit from the prequalification and robust testing performed by CRU.
In addition, CRU innovation in thermal management, signal integrity, and cross-platform compatibility saves time and money when implementing removable NVMe storage into a wide variety of solutions.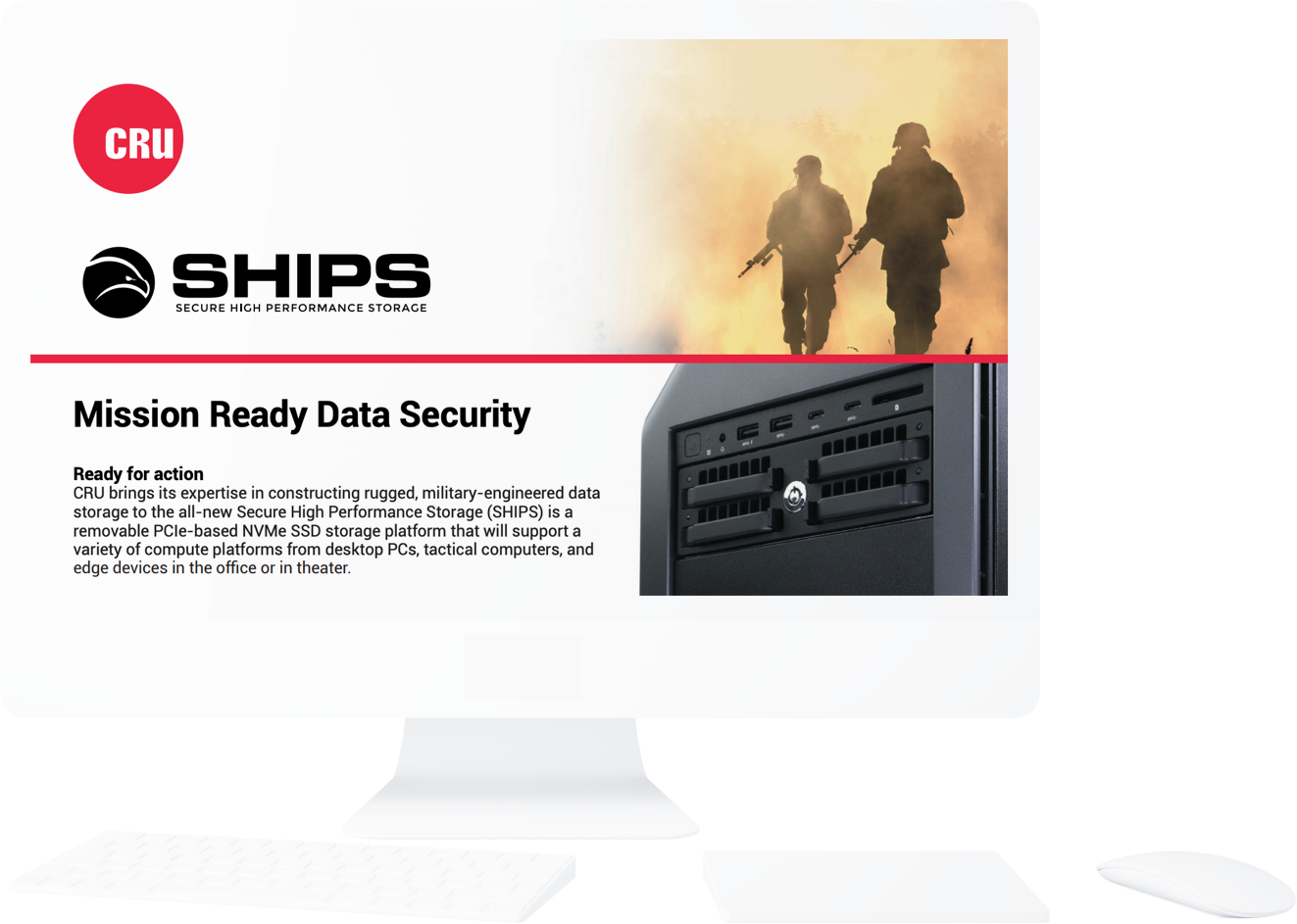 By entering your information to learn more about SHIPS, you'll get access to: 
Data sheets, specs & presentations
Pricing and availability
Development kit order information